Browse Ford F150 & Raptor LED light bar kits from Specialty Performance Parts. Our parts are OEM-like and possess outstanding quality, ensuring your car remains in tip-top condition. Rest assured that our competitive replacement parts will provide you superb quality at a cheaper cost. Plus, we have various options to choose from, whether you're browsing our light bar kits or something else. 
Many replacement car parts require your car to undergo major modification, but that's simply not the case with Specialty Performance Parts. Our parts work seamlessly with Ford vehicles because they're ideally suited for vehicles retaining an OEM-style appearance. 
Now's the time to purchase a high-performance light bar kit for Ford trucks—shop now.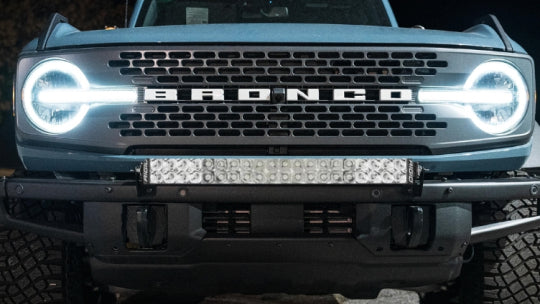 SPV LED Light Bars for Trucks
Navigating through rough terrains or bracing challenging weather conditions requires reliable and powerful lighting. Specialty Performance Parts LED light bars for trucks, suitable for vehicles such as the Ford F150 and Raptor, are designed to deliver just that. Crafted with heavy-duty materials, our LED light bars offer robust performance and unmatched durability. From single row to double row and curved designs, each light bar ensures maximum visibility in all conditions, so you can confidently conquer any road, trail, or task.
SPV LED Light Bars: The Lineup
At Specialty Performance Parts, we understand that different truck owners have unique lighting needs, and our diverse lineup of LED light bars offers a solution for every scenario.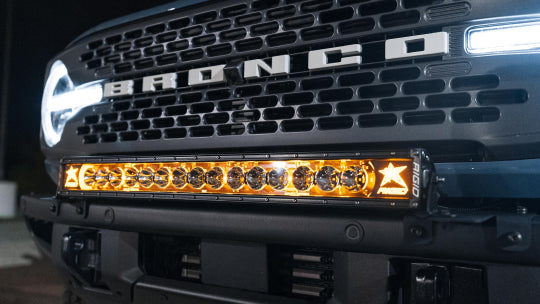 Single Row LED Light Bars
Compact and sleek design
Perfect for vehicles with limited mounting space
Provides bright light and effective illumination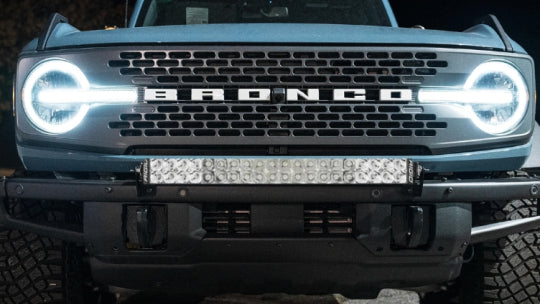 Double Row LED Light Bars
Features two rows of LEDs for increased light output
Ideal for trucks needing powerful lighting solutions
Offers maximum visibility for various scenarios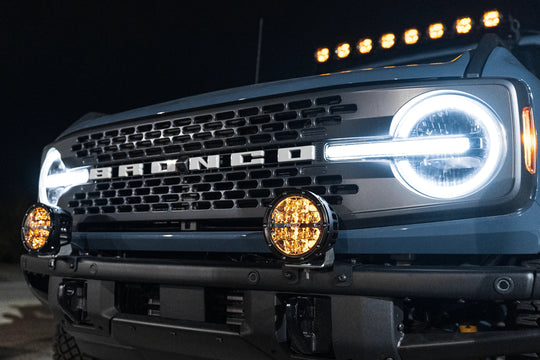 Curved LED Light Bars
Unique curved design that fits the contour of your truck
Provides a wider spread of light
Great for those seeking a combination of style and functionality
Understanding Different Light Bar Beam Patterns
Driving / Combo
As the name suggests, driving or combo beams are designed to provide a balanced light pattern, combining the features of spot and flood beams. They offer a wide driving beam that lights up both the road ahead and the sides, making them perfect for general driving conditions.
Spot
Spot beams produce a concentrated, bright light that's directed straight ahead. This beam pattern is ideal for long-distance illumination, particularly helpful for off-road enthusiasts navigating through straight, rough terrain during the night.
Wide Driving
Wide driving beams cast light over a larger area than spot beams, illuminating more of the sides of the road. This pattern is great for open areas and ideal for construction workers who require broad visibility across work sites.
Work / Scene
Work or scene beams have a diffused pattern that spreads light across a vast area. This beam pattern is best for illuminating a larger work scene or an emergency vehicle situation.
Flood
Flood beams spread light across a broad area but not as far as a spot beam. They're excellent for lighting up the immediate surroundings, making them ideal for slower, careful maneuvers like reversing or navigating through tight spaces.
Need Help Deciding? Contact SPV!
Choosing the right LED light bar can be challenging given the variety. But don't worry, our experienced SPV service team is here to help. From explaining the strengths of brands like Baja Designs and Diode Dynamics to resolving technical issues, we've got you covered. Our commitment extends beyond selling quality products - we believe in offering a personalized experience that addresses your unique needs.
So, whether you have questions pre or post-purchase, reach out to us. With SPV, you're investing not just in a product, but in a trustworthy relationship that guides you towards a safer, more efficient driving experience.
Contact Us
Which Brand Should I Purchase From?
At Specialty Performance Parts, we carry a wide range of brands from Baja Designs to Diode Dynamics and Rigid. Each brand offers unique strengths and specialties, catering to different lighting needs. Our team can help guide you towards the brand that aligns with your requirements and budget.
Where Can I Mount My Light Bar?
There are a variety of ways you can mount your awesome LED light bar. Yes, you can choose the traditional roof mount or grille mount, or you can even mount your light bar on your front bumper or lower windshield.
When Can I Use My Light Bar?
LED light bars are versatile and can be used in several situations. They're useful for off-road enthusiasts navigating through rough terrain, construction workers needing extra lighting, or emergency vehicles requiring maximum visibility. However, be aware of local laws and regulations concerning the use of light bars on public roads.